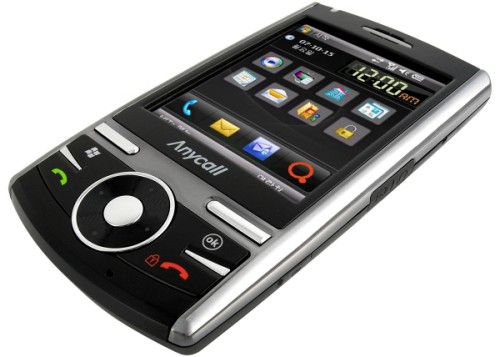 Market share of Smartphone operating system sales during Q2/2009 by Canalys.[1] (data does not include Palm WebOS, which was introduced in June, 2009)
A smartphone is a mobile phone offering advanced capabilities, often with PC-like functionality (PC-mobile handset convergence). There is no industry standard definition of a smartphone.[2][3] For some, a smartphone is a phone that runs complete operating system software providing a standardized interface and platform for application developers.[4] For others, a smartphone is simply a phone with advanced features like e-mail, Internet and e-book reader capabilities, and/or a built-in full keyboard or external USB keyboard and VGA connector. In other words, it is a miniature computer that has phone capability.[5][6]
Growth in demand for advanced mobile devices boasting powerful processors, abundant memory, larger screens and open operating systems has outpaced the rest of the mobile phone market for several years.[7]
Contents [hide]
1 History
2 Operating systems
3 Smartbook
4 See also
5 References
[edit]History
The first smartphone was called Simon; it was designed by IBM in 1992 and shown as a concept product[8] that year at COMDEX, the computer industry trade show held in Las Vegas, Nevada. It was released to the public in 1993 and sold by BellSouth. Besides being a mobile phone, it also contained a calendar, address book, world clock, calculator, note pad, e-mail, send and receive fax, and games. It had no physical buttons to dial with. Instead customers used a touch-screen to select phone numbers with a finger or create facsimiles and memos with an optional stylus. Text was entered with a unique on-screen "predictive" keyboard. By today's standards, the Simon would be a fairly low-end product; however, its feature set at the time was incredibly advanced.
The Nokia Communicator line was the first of Nokia's smartphones starting with the Nokia 9000, released in 1996. This distinctive palmtop computer style smartphone was the result of a collaborative effort of an early successful and expensive PDA model by Hewlett Packard combined with Nokia's bestselling phone around that time and early prototype models had the two devices fixed via a hinge; the Nokia 9210 as the first color screen Communicator model which was the first true smartphone with an open operating system; the 9500 Communicator that was also Nokia's first cameraphone Communicator and Nokia's first WiFi phone; the 9300 Communicator was the third dimensional shift into a smaller form factor; and the latest E90 Communicator includes GPS. The Nokia Communicator model is remarkable also having been the most expensive phone model sold by a major brand for almost the full lifespan of the model series, easily 20% and sometimes 40% more expensive than the next most expensive smartphone by any major manufacturer.
The Ericsson R380 was sold as a 'smartphone' but could not run native third-party applications.[9] Although the Nokia 9210 was arguably the first true smartphone with an open operating system, Nokia continued to refer to it as a Communicator.
In October 2001 Handspring unveiled the Palm OS Treo smartphone, utilizing a full keyboard that combined wireless web browsing, email, calendar and contact organizer, with mobile third-party applications that could be downloaded or synced with a computer.[10]
In 2002 RIM released the first BlackBerry which was the first smartphone optimized for wireless email use and has achieved a total customer base of 8 million subscribers by June 2007, of which three quarters are in North America.
Although the Nokia 7650, announced in 2001, was referred to as a 'smart phone' in the media, and is now called a 'smartphone' on the Nokia support site, the press release referred to it as an 'imaging phone'.[11][12][13] Handspring delivered the first widely popular smartphone devices in the US market by marrying its Palm OS based Visor PDA together with a piggybacked GSM phone module, the VisorPhone. By 2002, Handspring was marketing an integrated smartphone called the Treo; the company subsequently merged with Palm primarily because the PDA market was dying but the Treo smartphone was quickly becoming popular as a phone with extended PDA organizer features. That same year, Microsoft announced its Windows CE Pocket PC OS would be offered as "Microsoft Windows Powered Smartphone 2002".[14] Microsoft originally defined its Windows Smartphone products as lacking a touchscreen and offering a lower screen resolution compared to its sibling Pocket PC devices. Palm then introduced a few Windows Mobile smartphones alongside the existing Palm OS smartphones, and has now abandoned both platforms in favor of its new Palm webOS.
In 2005 Nokia launched its N-Series of 3G smartphones which Nokia started to market not as mobile phones but as multimedia computers.
Out of 1 billion camera phones to be shipped in 2008, smartphones, the higher end of the market with full email support, will represent about 10% of the market or about 100 million units.[citation needed]
The Smartphone Summit semi-annual conference details smartphone industry market data, trends, and updates among smartphone related hardware, software, and accessories.
Android, a cross platform OS for smartphones was released in 2008. Android is an Open Source platform backed by Google, along with major hardware and software developers (such as Intel, HTC, ARM, Motorola and eBay, to name a few), that form the Open Handset Alliance[15].
The first phone to use the Android OS was the HTC Dream, branded for distribution by T-Mobile as the G1[16]. The phone features a full, capacitive touch screen, a flip out QWERTY keyboard, and a track ball for navigating web pages. The software suite included on the phone consists of integration with Google's proprietary applications, such as Maps, Calendar, and Gmail, as well as Google's Chrome Lite full HTML web browser[17]. Third party apps are available via the Android Market, including both free and paid apps[18].
In July 2008 Apple introduced its App Store with both for fee and free applications. The app store can deliver smartphone applications developed by third parties directly to the iPhone or iPod Touch over wifi or cellular network without using a PC to download. The App Store has been a huge success for Apple and by June 2009 hosted more than 50,000 applications.[19] The app store hit one billion application downloads on April 23, 2009.[20]
Following the popularity of Apple's App Store, many other mobile platforms are following Apple with their own application stores. Palm, Microsoft and Nokia have all announced they will launch Apple-like app stores. RIM recently launched its app store, BlackBerry App World.
In January 2010, Google launches Nexus One using its Android OS. Although Android OS has a multi-touch capabilities, Google removes that feature from Nexus One[21].
[edit]Operating systems
Main article: Mobile operating system
Operating systems that can be found on smartphones include Symbian OS, iPhone OS, Palm WebOS, BlackBerry OS, Samsung bada, Windows Mobile, Android and Maemo. WebOS, Android and Maemo are built on top of Linux, and the iPhone OS is derived from the BSD and NeXTSTEP operating systems, which all are related to Unix.